Recollections of John Bascom……. Manufacturers Bank 1965-1992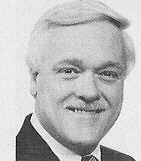 In 1965 I was a graduating senior at the University of Illinois, already with a wife and two tiny children; a man with too many student loans who desperately needed a job.  I was fortunate enough to have an offer from Bank of America in the Los Angeles region, when I interviewed pretty much on a lark at the U of I job placement center with Bill Goudie of Manufacturers National Bank of Detroit, an institution I'd never heard of in a city I'd never been to.  I was surprised to get a follow up invitation to visit Detroit, and with a subsequent offer of $525 a month (a whopping $50 more than B of A offered), I loaded the U-Haul and headed to Detroit.
My first job was as a trust accountant in the probate section of the nascent Trust Department.  One of my first "internal clients" was young Second Vice President Dick Heiss, already highly regarded for his intellect, ability and professionalism.  I'll never forget his withering gaze but calm, helpful attitude when I was called to his office to discuss an accounting I had done (frequently incorrectly) for one of his clients.
After about six months, I was transferred to the Credit Department. John Mays was the Credit Manager and Jerry McDonald the Assistant.  Jerry gave me my first formal performance review with the bank, which was quite mediocre. We worked hard in Credit with an eye on advancement, but we had plenty of fun, too.  I was nominated "social chairman" for the analysts.  The Credit Department summer picnic and the Christmas Party were legendary for joyful excesses.  The credit analysts occasionally lunched discretely at the Newspaper Club on Griswold, an establishment that was ahead of its time in featuring scantly clad waitresses.  On Friday afternoons the Term Loan Committee was attended by senior management from until .  A few of us credit analysts formed the "Economics Club", where we secretly adjourned during those hours when the proverbial "cats were away" to the State Bar, where we drank beer and shot pool for an hour or so.  We were never caught.
After "graduating" from Credit, I received what I considered a plumb assignment in the Metropolitan II loan division.  The late Don Buchanan was my boss there, a man of tremendous energy and imagination.  Don's warp speed style of business was frustrating at first, but I learned more about lending from him than anyone else during my years at Manufacturers.  He became a career long confidant' and later, when he reported to me, a loyal and capable ally.  After Don was promoted to Metro North Regional Head, I was privileged to continue to work in Metro Loans II under Bob Wandell and Assistant Division Head Jerry McDonald.
Beyond Don Buchanan, Bob Wandell and Jerry McDonald, I was fortunate to have a number of other mentors in commercial lending.  Of course Sy Sylvester was every lender's mentor, a man of imposing strength, wisdom and character-an inspiration to all who knew him.  But another unlikely mentor to me, and one of the most important in my career, was Ty Stansberry, the dreaded Loan Controller (all the sour work out deals).  Although I never reported to him, Ty (another banker who loved life, people and the occasional lunchtime cocktail) took an interest in me, boosted my confidence and taught me a great deal.  Now gone from this earth, I will never forget the help he gave me.
Later I was transferred to the Metro East branch region as a commercial lender under Bob Clark, the consummate branch banker.  Bob was another great teacher, and was supported by his affable and popular operations officer, Jim Davies, a man who truly loved life and people.  A few years later I was privileged to be promoted to my first management position at age 29, Vice President and Metro East Regional Head.  Paul Hussey assigned Bob Laurion to be my operations officer.  I was at first intimidated by Bob's strong presence and dour demeanor.  We immediately became great friends as I quickly grew to like, respect and trust Bob, yet another fine soul at Manufacturers who went far above the call of duty to help me.  There were so many fine branch people I had the chance to work with in Metro East, too numerous to mention them all.  But what a pleasure it was to work with George Zedan who lived and breathed the bank; he set the standard for our culture of dedication and customer service in the branches.  And I'll never forget Kenny Reynolds' deeply lined face as he studied his poker hand with a cigarette dangling from the corner of his mouth and a can of beer in his free hand during one of our evening get togethers.
Paul Hussey soon asked me to head up the Marketing Department, where I had the privilege to work with more fine people, including Bernie Lund and the energetic and optimistic Don Hooper (who would later again be my close colleague in Retail Banking).  I enjoyed Marketing and after a few years was asked to assume responsibility for the Consumer Loan Department, at the time somewhat of a rag tag step child department within the Bank.  There I was promoted to First Vice President and later Senior Vice President.  I must say, of all the assignments I was fortunate enough to have, I found Consumer Loans the most enjoyable and satisfying.  I'll never forget my good and trusted colleagues there including Art Morrison, Marilyn Worrell and John Andre (now all deceased- God bless their memories and their souls) as well as rock solid Luki Daneliuk and talented Pat McQueen. 
After Consumer Loans, I again returned to the commercial side responsible for middle market banking.  Later Tom Fisher, Chip Miller (two fine and respected colleagues) and I would head up the three Community Banking Divisions.  When Paul Hussey announced his retirement, Chip was promoted to head the Trust Department, Tom was put in charge of all branches and small business lending, and I was asked to assume Paul's duties as head of Retail Banking-great opportunities for all three of us.  Paul's retirement was bittersweet; a well deserved transition for a man who had worked hard and made a difference, but who would be dearly missed.  In my Retail role I was fortunate for the support of more wonderful people like Judy Rinkus, Bardette Hicks, Gerry Berry and Jan Mandeville (taken too early from this life).
After the merger with Comerica, I left in1993 and went on to have a wonderful opportunity to serve as President of the Magic Line ATM network, until its sale and my retirement in 2000.  I'm pleased to say that I am enjoying retirement in northern Michigan. My entire family (including twenty-three grandchildren!) and I are fortunately healthy and happy.
As I look back on my twenty-eight years with Manufacturers Bank, it was a fine bank and a wonderful place to work.  But more importantly, to me it represented a culture that stood for pride of workmanship, service to the community, fairness and decency.  At the end of the day, it was an alliance of remarkable people; it left its mark on me, and I only hope that in my small way I was able to leave a positive mark behind for others.