PERSONAL TRUST HISTORY AND HIGHLIGHTS OF MY CAREER AT MANUFACTURERS BANK
Submitted by Richard W. Heiss
, Private Banking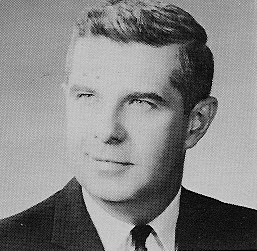 My career at MNB started December 2, 1957.† I had just completed five years of military service as an officer in the US Army Quartermaster Corp, the last 3-1/2 years in the Quartermaster Supply and Accounting Center in Giessen Germany. I had majored in accounting at Michigan State University, receiving a BA in 1952 and also being commissioned a 2nd Lt from the ROTC program. After a number of interviews following my discharge, I received a call from Aurel Ursa at MNB stating he had seen my resume at the MSU Placement Bureau and invited me to come in for an interview. I was introduced to Vern Johnson, Personnel Director, and then marched over to the Trust †Department at Main Office. I was offered a job in Trust Accounting at $450 per month, about the same as my army pay.
I was married and had one child. We lived with my in-laws in Monroe and I commuted by Greyhound bus until we purchased a home in Allen Park in April 1958.† In 1966 we moved from Allen Park to Farmington Hills where we still reside.
The Trust Department was quite small consisting of about 40 employees in 1957. A.E. LaPointe had been hired from Bankers Trust in New York in the early 50ís to build the trust activity. Carol Anderson had been brought in as Trust Investment manager, George Rutz headed Personal Trust and Stu Dingle was in charge of Corporate Employee Benefits. Their big account was the Ford Motor Co Stock Savings and Investment Plan and the Ford Stock Transfer Account. Ford Motor had just gone public in 1956. About this time the trust accounting activity was converted to IBM punch card where I first encountered Alastair Carlyle. I was named Assistant Manager of Trust Accounting in December 1958.
After my military discharge I wanted to take advantage of the GI Bill and continue my education. In the fall of 1958, I joined with my softball playing buddy Dick Helmrich and together we started law school at Detroit College of Law. We suffered through 4-1/2 years of night school, graduating and passing the State Bar exam in 1963.† With the added experience of law school classes, I was transferred to Trust Administration in 1960 and promoted to Assistant Trust Officer. I was assigned a portfolio of accounts, including the Ford family trusts for which I had been responsible in trust accounting. The trust executives and account officers occupied the back of the first floor in the main office at 151 W. Fort Street.
In 1962 the bank acquired the building on the corner of Congress and Shelby and built a bridge from the Main Office across Shelby. It was then called the Trust Building with the Trust Department occupying the first seven floors. I was promoted to Trust Officer in December, 1963.
In the mid sixties Personal Trust satellite offices were opened - In Dearborn, the Fairlane Office (Bates Fuell), and in Birmingham, at Branch 39 ( Sinclair Harcus and Dan Burlingame). In 1966, I was appointed Vice President & Trust Officer and named head of Personal Trust Administration. †About this time a major conversion of the trust accounting system took place, added employees and long hours.† Fortunately, I was not a part of it.
In 1968, I was named head of all Trust Administration, excluding Trust Investments, appointed Vice President and Senior Trust Officer and Chairman of the Boardís Trust Committee.
In the early 1970ís, a satellite office was opened in Grosse Pointe in the new Marco Building on Mack Avenue (Dick Sutherland). The trust accounting system was converted to SEI software to utilize a state of the art dedicated system designed for trust departments. The use of the SEI system continued until the merger with Comerica in 1992.
In 1972 Frank Couzens Jr. succeeded Carol Anderson as executive officer in charge of the Trust Department which was reorganized into three major divisions; Personal Trust headed by me, Institutional Trust with Stu Dingle and Trust Investments headed by Ben Smith.
In 1972 I was invited to join the Board of Trustees of my alma mater, Detroit College of Law on which I still serve in its new location at Michigan State University. The site of the previous location is now Comerica Park.
In 1977 the Trust Department was among the first to move to the new Renaissance Center Tower 100, Personal Trust occupying the entire 7th floor. In December I was appointed Senior Vice President.
In the late 70ís money market funds became available and were used to invest trust cash which was a dynamic change allowing daily sweep of cash into interest earning assets. This feature opened the door for marketing the "Selectrust", a pre printed trust agreement, which added millions to Personal Trust assets. (I might add, much to the chagrin of my retail banking friends, Paul Hussey, Larry Hemmen and Don Hooper).
In 1979, Gerald MacDonald and I were privileged to be sent to attend the Executive Management course at Stanford University. While serving on the American Bankers Association trust division executive committee, in 1981 I was elected President of the Trust Division and served on the Board of Directors of the ABA which gave national exposure to MNB and me.
In 1983 Manufacturers Trust Co of Florida was formed. I was named President and Gordon Wright who was in charge of the Dearborn Trust Office, moved down to Florida to man the Personal Trust office in N. Palm Beach. Subsequently, banking powers were obtained and the offices were moved to a new facility on PGA Blvd. Don Dean eventually moved down to become President and I was named Chairman of the Board. A branch office was opened in Naples by Dick Hartley.† We entered into an arrangement with the Fairfield Group which served as a distributor for our new family of mutual funds named The St. Clair Funds.† These mutual funds mirrored our Collective Investment funds which could only be used in trust accounts in which MNB served in a fiduciary capacity. The Investment Company Institute, the trade association for the mutual fund industry, lobbied very hard to keep banks from offering mutual funds. During this time I had the great experience of testifying before Congress on behalf of the banking industry. Now all major bank holding companies sponsor a family of mutual funds.
Manufacturers was one of the first major banks to form Private Banking to combine the disciplines of Trust, Lending & Investment management to high net worth and professional clients. I had served on the American Bankers Association task force researching the concept of Private Banking and the initial Private Banking Division Executive Committee. Today, nearly every major bank, national and international, has Private Banking organized to synergize their products to their wealthy clients.
In or about 1985 the Personal Trust Division was spun out of the Trust Dept into a newly formed Private Banking Dept. which was made part of the Retail Bank. As head of Private Banking, I reported to Paul Hussey, a friend and colleague who over the years I competed with and against in softball, tennis and golf. Three major divisions included Personal Trust (Tony Forcellini), Executive Banking (Tom Fisher) and Investment Management (Ken Gilson). †Support sections included Business Development (John Landis), Real Estate (Dave Cornwell), Estate and Tax Services (Mike Obloy) and Financial Planning (Barb Bierbusse).
Later in the 1980ís Private Banking satellite offices in Michigan were opened in Southfield, Lansing, Grand Rapids and Ann Arbor.† In 1989 I was appointed Executive Vice President. Mary Robertson succeeded Tom Fisher as head of Executive Banking. Fisher moved to an executive position in Branch Banking.
March 31 1992 - THE END† Dick Heiss retires, after a very satisfying career at Manufacturers National Bank and the merger with Comerica occurs.